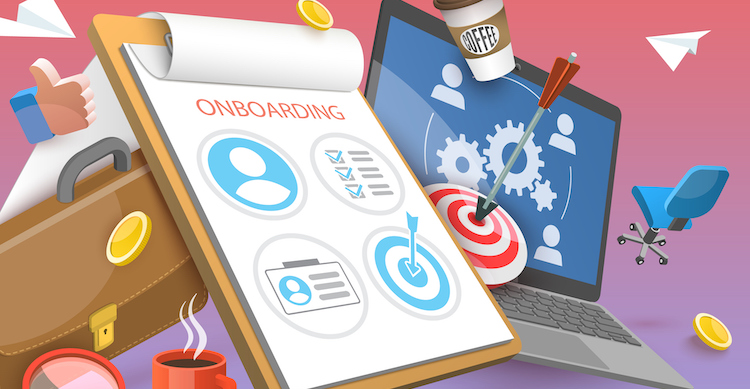 Last updated
The post pandemic work landscape means more people are now working remotely and adapting to the virtual work environment. This is throwing up all manner of new challenges that we need to work through, not least how to successfully onboard and retain new employees. This is where onboarding mentoring for new employees can really add value.
The employee on-boarding process is to help a new employee to feel welcomed and integrated into their new organisation and get them performing their new job as quickly as possible. Pre pandemic most employees would have spent their induction period in a physical workplace environment, mixing with peers and absorbing the company values.
With the advent of remote working this is often not the case and so immersing new employees in company culture and helping them to feel part of the organisation can be a more difficult challenge than it was. Onboarding now requires a little bit more creativity and adaptation.
The Value of an Onboarding Mentor Program
Onboarding mentoring enables new employees to receive individualised attention, making the work environment more welcoming for them and helping them transition better. In fact, the mentoring process can start as soon as a job offer is accepted, by matching the newbie with a mentor before their official start date.
According to a key study by Intelligence Group 70% of millennials deem mentoring critical to their success and with millennials making up 50% of the global workforce it is important to meet their needs and expectations in order to attract and retain future leaders.
So, mentoring can not only help with initial onboarding, but over time it can help to ensure employees are retained; an important consideration when on average 50% of senior hires leave their new role within 18 months.
And to really back up the importance of mentoring a Wharton study , found that people who mentor got promoted 6 times more often than people who didn't and mentees were promoted 5 times more often, and most importantly retention was 20% higher in both groups five years later.
Benefits of Mentoring
A mentoring program means that career development can continue regardless of remote working, with mentors creating a safe space for career conversations. Mentees can use their connection with a mentor to lower anxiety about a new role and to work with the mentor to develop a vision of how they can thrive in their new career.
The interaction from mentoring increases social engagement and reduces the feeling of loneliness and isolation that can result from remote working.
It's not just mentees who can benefit from the mentoring relationship. Research has shown that mentoring programs offer benefits for both parties involved. Being a mentor can bring many mental benefits. The experience gives the mentor a chance to revisit obstacles they have overcome and the successes they have achieved, which can help focus on the positive aspects of life.
Mentors can provide support that will enable mentees to settle in quickly, develop new skills, take on bigger challenges and act as a sounding board. Mentors aren't there to rescue or fix everything for their mentees. Instead, they provide strategies, skills, and resources that mentees can use to learn and to grow so that they can address their challenges themselves.
Failure to get the onboarding right could mean the early exit of a promising new hire and that comes with a hefty financial cost.
The benefits for mentoring new employees
New employees benefit from mentoring from the outset, as it immediately gets them into the thick of their new organisation. It has several effects:
Accelerates onboarding - Mentoring new employees accelerates their onboarding by helping them understand their roles and responsibilities more quickly. It also quickly familiarises them with and adapts them to company culture by explaining the company's values and norms. Through the mentoring process, new employees develop crucial skills with valuable insights and advice from their mentors.
Provides support - Mentoring provides new employees with a reliable support system, fostering a sense of belonging and encouraging them to build a strong professional network within the organization. This support should lead to increased job satisfaction and engagement, ultimately improving employee retention rates where this happens.
Enables sharing of knowledge - By enabling the sharing of knowledge and experience between seasoned employees and new hires (often both ways), mentoring promotes organizational learning and growth. Mentors can help new employees develop effective problem-solving strategies and to enhance their decision-making abilities. Mentors can also guide new employees in identifying career goals and creating a roadmap for professional growth, which boosts their self-confidence and sense of their own abilities and effectiveness.
Creative thinking - Mentoring encourages new employees to think creatively and develop innovative ideas, which should increase their contribution to the organization's success. It also facilitates reverse mentoring, in which mentors can learn from new employees, especially in areas like technology or emerging trends, promoting continuous learning across the organization.
Developing new leaders - Mentoring plays a crucial role in identifying and developing potential leaders, ensuring a robust pipeline for future organizational leadership.
Encouraging diversity within an organisation - Additionally, mentoring new employees addresses diversity and inclusion concerns by fostering understanding, empathy, and collaboration between employees with different backgrounds and experiences.
Selecting the Right Mentor for a New Employee
Selecting the right mentor for a new employee is crucial for the success of the mentoring relationship and the new employee's integration into the company. When selecting a mentor you can consider various factors to increase the likelihood of a successful mentoring relationship, leading to a more effective onboarding process for the new employee and a stronger foundation for their career development:
Relevant experience - Selecting a mentor with relevant experience and expertise in the new employee's field or role is crucial, as it ensures they can provide valuable guidance and insights. A good mentor, with relevant experience, can break down complex concepts and processes more effectively, making learning more accessible for the new employee.
Compatibility of the mentor and mentee - It's essential to assess the compatibility between the mentor and new employee by considering their personality, communication style, and work habits to create a positive working relationship. This is one of the key areas that will aid in the success of mentoring a new employee and in quickly making them feel welcome and a part of the company.
Finding someone who is committed to the process - A suitable mentor should be available, committed, and willing to invest time and effort into the mentoring relationship, as this increases the likelihood of the new employee's success. Ideally, the mentor should also possess good emotional intelligence, empathy, and active listening skills to understand the new employee's needs, concerns, and aspirations.
Mentors with the right personal qualities - Trust is the foundation of a successful mentor-mentee relationship, so it is vital to choose a mentor who is reliable, respectful, and has a history of maintaining confidentiality within the company. The mentor should be adaptable, open to change, and able to modify their mentoring approach to match the new employee's learning style while being responsive to their evolving needs and goals.
Mentors should have the right contacts - Mentors should also be well-connected within the organization, allowing them to make introductions to new employees and in so doing, help the new employee build a strong professional network. An ideal mentor embodies the company's values, culture, and desired behaviours, enabling the new employee to learn from their example and assimilate into the company more effectively.
Mentors should be open to learning from new employees - Lastly, a mentor should be open to learning from the mentee, fostering a mutually beneficial relationship and encouraging a culture of continuous learning within the organization.
How much time should be spent on mentoring new employees?
The time spent on mentoring new employees and the structure of the mentoring program can vary depending on the organization, the complexity of the role, and the individual needs of the new employee.
A mentor should be willing to invest time and effort in supporting a new employee. This may involve meeting for an hour or two every week during the initial onboarding period and transitioning to less frequent meetings, such as bi-weekly or monthly, as the new employee becomes more comfortable in their role.
During the onboarding phase, which typically lasts a few weeks or months, the mentor should have more frequent and structured meetings with the new employee to address immediate questions, concerns, and challenges. As the new employee becomes familiar with their role, the focus of the mentoring sessions should shift towards skill development, problem-solving, and goal setting.
After the initial phases, although the frequency of meetings may decrease, they should remain regular and consistent to ensure continued progress. The mentor can then provide ongoing support and guidance as needed, scheduling meetings less frequently, such as on a monthly or quarterly basis. This approach helps maintain the mentoring relationship and provides a long-term support system for the new employee.
To find out more about running an onboarding mentoring program get in touch today.