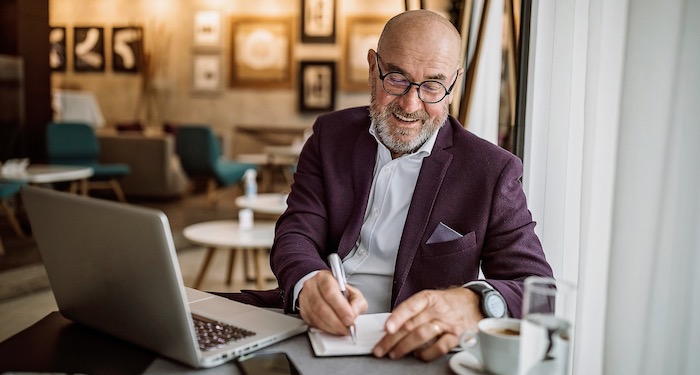 Last updated
In today's dynamic business environment, building a robust succession pipeline is not merely an option, but an imperative for organizations aiming to secure their long-term success and sustainability. A crucial component in creating this pipeline is a well-designed and effectively implemented mentoring program, where mentoring and succession planning work hand in hand. When harnessed correctly, mentorship becomes a powerful tool for preparing high-potential employees, preparing them to seamlessly step into key positions in the future. Getting the most experienced staff in place to help with mentoring for succession planning is a key starting point.
Retirement – why it doesn't have to be goodbye to the workplace
It is a sad fact that retirement often means that for many organisations and professions a wealth of knowledge and experience walks out of the door along with the retiree.
This of course needn't be the case; mentoring provides the ideal opportunity for a retiree to share their expertise and pass this onto others in your organisation or profession.
Retirees are often very well positioned to be mentors, and can be particularly suited a mentoring role in the succession planning process. They also offer a good alternative where senior people are too busy to give time to mentoring. In addition, a role as a mentor can help ease employees into retirement whilst giving them a useful purpose.
Although retired individuals may not be fully in the loop on the newest laws or tech updates, that's not what mentoring is all about. The purpose of a mentor is to be a good listener rather than an educator. While they may not have all the answers, they can help guide a mentee by directing them to the appropriate resources or simply providing a sounding board for them to bounce ideas off of. A mentor's expertise lies in their ability to offer support and help mentees develop their own problem-solving skills. Remember, a mentor's role isn't to tell a mentee what to do, it is to act as a guide.
Mentoring is all about asking questions, listening, and offering guidance without giving all the answers. A mentor challenges their mentee to think more deeply and consider different perspectives, drawing on their own experiences and past achievements as a source of inspiration. A mentor's role is to provide support and alternative options, and to serve as a positive role model for their mentee. Even if they're not currently in the workforce, a mentor's past experiences can be incredibly relevant and valuable in helping their mentee achieve their goals.
Coaching and mentoring for work life balance
Sometimes mentoring is all about sharpening up your technical skills like getting familiar with the latest gadgets or software. But usually, it's more about nurturing those soft skills that really count, like how to manage people, how to negotiate, and how to balance work and life. These are the sorts of skills that are always useful no matter how much time has passed, and the advice you get from an older mentor can be absolutely priceless. Finding the right balance between work and family life is a challenge that pretty much everybody faces, no matter what generation they belong to.
Although there are many reasons to have a retired mentor, here are a few of the most important:
High Potential mentoring for succession planning
When looking to develop mentor programmes for high potential employees, retired individuals can play a valuable role in succession planning by serving as mentors to high-potential employees within the company. By passing on their knowledge and skills to the next generation of workers, retirees can help prepare the company for the future and ensure that it has a strong pool of talented employees ready to step into leadership roles when needed.
The role of a mentor in succession planning for retiring employees
Mentors are crucial components when considering not only how to mentor individuals being prepared for a leadership roles, but who those individuals should be. Mentors can help with:
Identification of High-Potential Employees: A mentor, with their experience and knowledge of the organization and industry, is ideally placed to help identify high-potential employees. They can guide HR and leadership teams in spotting those who show the potential to grow into leadership roles, based on a comprehensive understanding of their strengths, weaknesses, and potential.
Preparing for Leadership Roles: A mentor plays a crucial role in preparing high-potential individuals for leadership roles. They can provide insight into the nuances of leadership, share their experiences of managing teams and making strategic decisions, and assist in honing skills necessary for these roles. This kind of knowledge transfer is invaluable and difficult to acquire through traditional training programs.
Organizational Knowledge Transfer: The mentor, especially if they have been with the company for a long time, possesses deep institutional knowledge and understanding of the company culture. They can help high-potential employees understand the underlying values, norms, and procedures of the company, ensuring continuity and alignment with the organization's culture.
Handling Transition Challenges: A mentor can also assist in easing the transition period once a mentee assumes a new leadership role. They can provide advice, feedback, and support as the mentee navigates the challenges of their new position.
Risk Management: In a strategic context, mentors can also help in mitigating risks associated with succession. For instance, sudden departures can leave a vacuum in leadership. An effective mentoring program can help ensure that there is always a pipeline of 'ready-now' leaders who can step into critical roles when needed.
Time available
Choosing a retired mentor can be a huge advantage for a mentee. While it's not realistic to expect retired mentors to devote all their free time to mentoring, they do have the advantage of having more time available to spend with their mentee. This means they can offer more flexibility in scheduling and have the ability to take a more leisurely approach to mentoring. With fewer distractions and obligations competing for their attention, retired mentors can often offer a more focused and attentive level of support to their mentee.
For mentors, mentoring can offer a great transition from their working life into retirement. By becoming a mentor, they can continue to use their skills and expertise to help solve problems and provide guidance, without the same pressures and demands that they may have experienced in their previous career. This can be a fulfilling and rewarding way for retired individuals to stay engaged and give back to their community, while also enjoying the freedom and flexibility that comes with retirement.
Mentoring can also offer retired individuals the opportunity to continue networking and learning. By engaging with their mentee, mentors can expand their own knowledge and gain new perspectives on different industries and challenges. Additionally, mentoring can provide retired individuals with the chance to connect with other mentors and mentees, expanding their network and building new relationships. In fact, studies have shown that 9% of retired individuals are actually themselves being mentored, highlighting the continued importance of learning and growth throughout all stages of life.
Work and life experience
While a retired mentor may not be the most knowledgeable about the latest technology or changes in legislation, there are still many other areas where their experience and expertise can be incredibly valuable. In particular, the development of soft skills is often overlooked but is critical to the success of any organization, particularly where an employee is being groomed to take over a company or high level placement within a company.
Retired employees are likely to have spent years honing their communication, leadership, and people skills, among others. This wealth of experience can be a tremendous asset to a mentee seeking to develop their own soft skills and improve their performance in the workplace. So, while a retired mentor may not have all the latest technical knowledge, their expertise in other areas can be just as valuable and relevant.
Using coaching and mentoring skills to provide support to colleagues
Retired employees have a wealth of experience in navigating their way up the career ladder and developing a range of essential soft skills, such as leadership, communication, and people skills. These are precisely the sorts of skills that younger colleagues are eager to learn and develop. Having access to a retired mentor who has the time and expertise to offer impartial guidance and support in discussing career aspirations and planning for achieving them can be invaluable for younger colleagues. This not only benefits the mentee in their personal and professional growth but also can be a boon for the organization as a whole. By investing in the development of younger employees, the organization can cultivate a more skilled and talented workforce, with the potential to contribute to long-term success.
Another area that retired employees can add value is in being able to assist in one off projects where you simply don't have the manpower to undertake, but which a retired employee could step in and work on, given they have the relevant skills, knowledge and more importantly the time.
At PLD we have already been working with clients to not only put mentoring and coaching platforms in place but also platforms where retired employees can make themselves available for projects and those looking for help can search them out and make a connection.