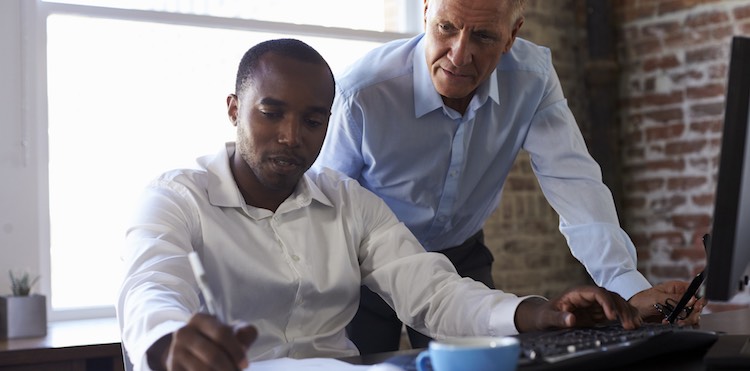 Last updated
As the work environment continues to evolve, the importance of skill development in the workplace without sacrificing performance is becoming increasingly evident for organisations such as yours.
A Wainhouse Research study involving approximately 2,000 knowledge workers revealed a surprising alignment in learning preferences between the youngest and oldest workforce members. The study also highlighted a universal desire for diverse learning methods.
Contrary to popular opinion that suggests generational differences in learning styles, the Wainhouse study shows a consistent preference for a variety of learning tools across all age groups.
The research challenges the misconception that older generations are averse to technology. Among the nine learning methods evaluated in the study, instructor-led training, brief video clips, and coaching and mentoring emerged as the top three preferred learning approaches for respondents across the board.
Coaching and mentoring are particularly attractive to the oldest (aged 50 and above) and youngest (aged 21-25) learners among all age groups in the workplace.
"I enjoyed matching with a mentor and would participate again!"
Mentee feedback – Beazley Group
For young employees, casual discussions with experts in the field are highly valuable. This preference tends to diminish as workers get older, becoming less of a priority. However, later on in their careers, those aged 50 and above show a renewed interest in informal conversations, surpassing the level of interest shown by those in mid-career.
In addition, workers in their mid-careers, aged between 33 and 49, have the most distinct preferences compared to other age groups. For these individuals, short video clips rank as their second-most favoured learning approach.
Younger employees seek guidance as they embark on their professional journeys, aiming to successfully navigate the unfamiliar terrain of the workplace and the specific culture of their new organisation.
Indeed, millennials are sending a clear signal to employers: mentoring is a non-negotiable requirement, and its absence could lead to them seeking opportunities elsewhere.
Millennials: We Demand Mentoring or We'll Take Our Talents Elsewhere
A Deloitte study indicates that millennials planning to remain with an organisation for over five years are twice as likely to have a mentor compared to those who don't. Additionally, the survey revealed that millennials envision an ideal working week that includes considerably more time devoted to mentoring and coaching than they presently experience.
The benefits of employee mentoring
The benefits that workplace mentoring offers are felt for mentees, mentors, and employers alike. According to a survey by the Association for Talent Development, organisations that have formal mentoring programmes cite enhanced employee engagement, better retention rates, and the development of high-potential employees as the primary advantages of mentoring.
With the modern working landscape where skills become outdated more quickly than ever, and employees are extending their career durations, the oldest workers are keen to keep learning and evolving to stay relevant. Understandably, they seek advice and direction from experts and mentors who can assist them in successfully navigating the ever-changing work environment.
"This was a really great experience for myself, as a mentor and as a future mentee. I really encourage everyone to give it a try."
Mentor feedback – Beazley Group
As a tool for knowledge sharing and upskilling, incorporating a reverse mentoring program into your mentoring mix serves as an excellent strategy for both older and younger employees. Matching your younger staff members, proficient in technical skills with their older colleagues who have extensive institutional knowledge can be mutually beneficial. It can enhance the understanding and technical abilities of the older employees while allowing the younger ones to gain a deeper feel for your organisation's culture.
Mentoring employees at Beazley Group - a real-world case study
Beazley Group is a global insurance and reinsurance company with six operating divisions. They needed a mentoring platform to support their global workforce.
"For me the best thing has been the relationship with PLD. Their client service is excellent and their willingness to help solve problems in an innovative way has been the basis for an excellent working relationship"
Head of Talent Development Beazley Group
PLD provided a cost-effective mentoring platform tailored to Beazley's needs. The platform allowed mentors and mentees to manage their relationships with minimal administrative intervention.
Aim of the Program - Beazley aimed to implement a mentoring platform that was user-friendly and integrated seamlessly with their existing HR systems. The platform was intended to support employees at all organisational levels without interfering with their daily responsibilities, a common factor that was highlighted in the above studies.

Results - The platform has seen growing usage across the company since 2019 and both mentors and mentees have given positive feedback about the program. The Head of Talent Development praised PLD for their excellent client service and innovative problem-solving.
The Beazley Group's experience with implementing a mentoring platform is a practical example that backs up the research findings discussed in this article. Similar to the Wainhouse and Deloitte studies above, Beazley's initiative highlights the crucial role of mentoring in employee engagement and skill development within the workplace. The mentoring platform's interface and minimal administrative requirements also align with the need for learning solutions that can be easily integrated into daily workflows.
Adopting employee coaching and mentoring programs within your organisation
Whether conducted in-person or virtually, such programmes can facilitate collective adaptation and foster a more ingrained culture of learning throughout your organisation. Mentoring can also help you to reduce training costs in the company as a whole, with some knowledge and experience passed on through mentoring, rather than within structured training courses.
Workers and managers in their mid-careers are often the most pressed for time among all employees. Positioned at the intersection of strategy and implementation, they seldom have the luxury of time to engage with another manager for advice or mentorship. For them, concise and focused learning experiences that can be easily integrated into their workflow are the most effective.
For organisations like yours, adopting a well-rounded approach that takes into account not just generational preferences but also job roles and levels is essential. As you recognise this diversity and offer a variety of ongoing learning opportunities—such as video-based learning, informal discussions, coaching and mentoring schemes, and bite-sized training modules— you will enhance learner engagement and skill retention, particularly in an era of swift change.
Employee mentoring helps to grow your company
When your employees feel that your organisation is investing in them, their desire to learn and develop further intensifies and this can also result in better employee satisfaction and ultimately retention of key members of staff whose experience will help you improve your company's fortunes.
If you would like to find out more about running a mentoring program get in touch, or simply take our quick 3 minute quiz to see if a coaching and mentoring program is right for your company.