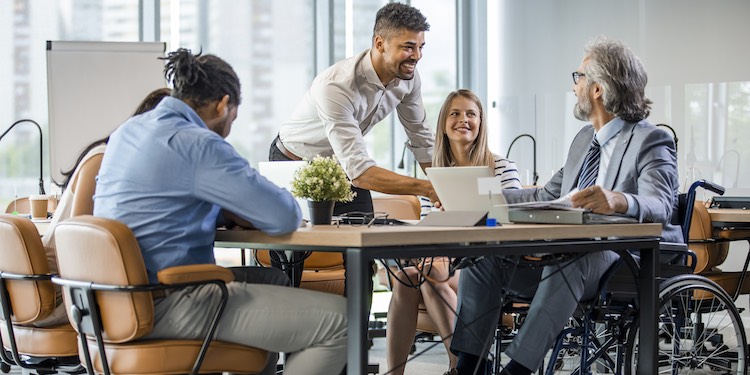 Developing a diversity and inclusion mentoring program will support leaders, managers, and future leaders to develop the knowledge and skills to become better able to affect diversity and inclusion in an authentic way.
Mentoring is one of the few strategies that research has proven to be effective in improving representation of diverse employees in the workforce, while also providing an opportunity for organisation connection and support.
Diversity mentoring helps an organisation find similarities within a diverse workforce and helps to unite the workforce by recognising these differences as an opportunity to learn.
According to David Clutterbuck (Co-founder of the European Mentoring & Coaching Council) Diversity mentoring builds understanding in different levels of the workplace:
"Mentees become more aware of their potential; gain greater clarity about themselves and their environment; and achieve greater self-motivation and support to achieve their dreams.

Mentors gain awareness of how people from differing backgrounds or situations perceive and experience the working world. This frequently results in the mentors recognising how they and others create artificial barriers to the advancement of talented people, who happen to be different. As the mentors gain a better understanding and appreciation of people, who are different from themselves, they modify and widen their view of talent."
Like all mentoring relationships diversity mentoring requires an open dialogue so it is essential that both parties are comfortable about revealing their thoughts and concerns. It is vital that the relationship is such that both parties feel they can challenge each other's assumptions, behaviours and actions and suspend judgement about each other, though this can sometimes be difficult.
What makes the diversity mentoring relationship work?
A study by the US Minority Corporate Counsel Association (Anon 2003) found that diverse mentoring relationships that worked had a number of common characteristics
established confidence by beginning with work-related issues
identified common interests and values;
made efforts to learn about each other;
showed empathy;
were clear about needs and expectations;
avoided stereotypes and untested assumptions;
risked discomfort to make the relationship work
Positioning difference and disadvantage
Diversity and Inclusion Mentoring can be a sensitive subject. An MCCA study found that 'discussion of race and gender diversity was often avoided when one of the parties was white, even in mentoring relationships, which were strong'. This avoidance can in fact make the other party feel uncomfortable as they then both feel that they have to pretend there isn't a difference.
That is why when it comes to designing this type of mentoring program it is important to consider how to overcome any awkwardness around discussions and to encourage on honest and open dialogue.
Agree, between mentor and mentee, what role the mentee wishes difference to play in the relationship.
Agree that mentor and mentee will challenge each other around the role of difference and the impact it is perceived to be having, where appropriate.
Tips to Create a Diversity Mentoring Program
Make the Program Inclusive
A diversity and inclusion mentoring program should provide opportunities for all employees to participate, particularly under-represented individuals. According to David Clutterbuck diversity mentoring is a developmental process that aims to achieve both individual and organisational change through a shared understanding that differences exist and are perceived as integral to learning, growth, and development.
Implement Mentor and Mentee Training
All mentoring programs should include training, but with diversity and inclusion training the general mentoring training needs to be expanded to include cultural, racial, and gender awareness.
The mentoring training should help to set expectations as some participants may have unrealistic expectations for their relationships including an anticipation of it resulting in a promotion. Training can help set expectations and get all participants on the same page.
Participants in these types of mentoring relationships can find them challenging at first. However, with the correct support and guidance built into the program these challenges can be overcome and the relationships can be very beneficial for both participants.
Make it Voluntary
Make your mentoring program voluntary. By having an optional program, the people who participate have a greater likelihood of active engagement and genuine interest in the program and its outcomes. Mandatory diversity programs can sometimes generate more bias.
Encourage Good Mentor and Mentee Relationships
Encouraging these relationships and having the mentors get to know their mentees personally can help diverse mentoring flourish. It can also set the tone for employee development, inclusion and diversity, and empowerment within the organisation.
A well designed diversity and inclusion mentoring program can provide outstanding results for both an organisation and individual participants.
Acknowledgments
Some of the above is from Understanding Diversity Mentoring by David Clutterbuck.