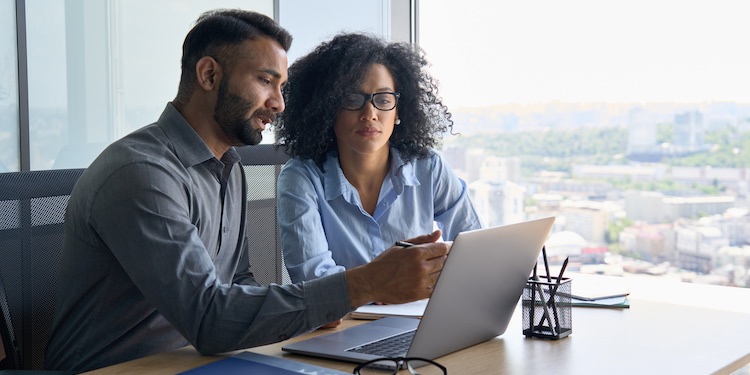 As we celebrate Learning at Work Week from 15th – 23rd May, we reflect on why mentoring is a valuable L&D tool.
Learning at Work Week is a unique annual event open to everyone. It aims to build learning cultures at work, placing a spotlight on the importance and benefits of continual learning and development. This year's theme is Create the Future, which looks to explore how lifelong learning can help everyone personally and collectively create the future – from achieving life and work goals, to shaping lives, communities and the world, driving innovation and achieving organisational ambitions.
The CIPD sets out that learning and development is about creating the right culture and environment for individuals and organisations to learn and grow. It's knowing the current and future capability needs of the organisation, as well as how to create a learning culture that drives engagement in ongoing professional development.
Clearly learning design and delivery requires a blend of learning approaches to support all individuals, including face-to-face, digital and social collaborative, as well as the application of motivational and behavioural science. Mentoring is a useful part of the L&D armoury, allowing less experienced team members to be supported by more experienced team members.
However, the value of mentoring is not just for the mentee, there is also great value to the mentor, as mentoring supports and encourages the growth and development of both parties.
The benefits to the mentee require little explanation, but include:
Having a sounding board – being able to openly discuss issues, concerns and dilemmas and receiving advice and guidance from someone with a fresh perspective.
Clarification of goals – being challenged on goals, ensuring that they are SMART (specific, measurable, achievable, realistic and with a timeframe) and relevant.
Being held to account – it is easy to justify to ourselves why we don't need to do something, or to allow deadlines to slip, but a mentor will keep the mentee on track, ensuring they are not procrastinating.
Developing networks – a good mentor will open doors for their mentee, ensuring they have access to the appropriate individuals who can help the mentee achieve their goals.
Developing skills, knowledge and confidence – entering into a mentoring relationship will immediately focus the mentee on the skills and knowledge they require. The mentor will support and guide the mentee on this journey, whilst helping them build their confidence in terms of their strengths.
The benefits of mentoring don't stop there, for the mentor the benefits include:
Improving communication and management skills - effective managers and leaders need to know how to establish positive, trusted relationships. Working with a mentee, provides an opportunity for the mentor to develop skills such as empathy and active listening.
Expanding connections and networks - cultivating networks is a critical factor in career success and progression. Mentoring provides an opportunity for the mentor to continue to build their own network as they support mentees to expand theirs.
Promoting self-reflection – as a mentor shares their journey with their mentee, it encourages them to reflect not only on what they have achieved but also on how they got there. The attributes and strengths which were critical to their success and how they should now continue to learn and develop.
Building self-confidence – as the mentor helps the mentee to identify their strengths and supports them in their development, so this instils self-confidence in the mentor.
Personal satisfaction – as the mentor sees the mentee grow, develop and ultimately achieve their objectives, mentors report a real sense of satisfaction that they have supported the mentee in their development.
The growth of the mentee and the mentor as part of the mentoring process makes mentoring a powerful tool. This is highlighted in an article by Deborah Heiser PhD in Psychology Today which quotes a mentor with over 30 years' experience in her industry who mentored a new entrant to the industry: "After starting with the unspoken assumption that my mentee was the one who stood to gain the most from our professional collaboration, it quickly became clear that I had at least as much or more to gain. When two people at different career stages both devote time and energy, it invariably becomes a win/win!"