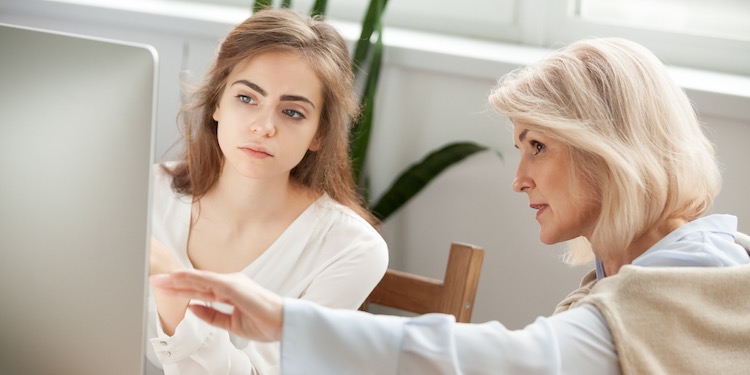 Last updated
It is clear that mentoring has benefits for both men and women in the workplace. Why then aren't more women involved in mentoring roles, either as mentors or mentees, especially when there are clear advantages to it?
What stops women from mentoring?
It seems that time constraints, mentors feeling they might lack the necessary knowledge and the hesitation of mentees to seek guidance from senior women are often cited in studies exploring this topic.
A study by SHRM, entitled "Women as Mentors: Does She or Doesn't She? A Global Study of Businesswomen and Mentoring" sought to address inquiries like:
Who truly drives the initiation of mentoring?

Are women actively pursuing mentorship opportunities?

Are higher-ranking women eager to guide others, or do they fear amplifying the competition within their own organisation?

What steps are necessary to normalise mentoring further?
The survey was conducted with 318 businesswomen spanning 19 countries and 30 distinct industries. The average age of the participants was 48 years, and a significant portion (75 percent) reported that they occupied either mid-level or senior leadership positions.
For a long time, studies and specialists have highlighted the importance of mentoring in aiding women's professional growth. This includes facilitating promotions and salary hikes, establishing valuable professional connections, or guiding them through the intricacies of office dynamics, politics, and procedures.
Consequently, one might assume that a greater number of women would be keen on seeking mentors and that those in senior positions would be eager to take on mentees. However, this isn't the case.
The research revealed that an astonishing 63 percent of the participants had never been mentored, even though 67 percent considered mentoring crucial for career advancement.
Women felt that they lacked time for mentoring
The primary challenge cited by women in the research was a shortage of time. Seventy-five percent indicated that the time commitment required for mentoring largely influenced their choice to take on a mentoring role.
Although time is frequently mentioned as a significant concern, among the women who do mentor, a mere nine percent felt that mentoring detracted from progressing in their personal professional tasks.
Interestingly, the perception doesn't align with the actual experience—when women do engage in mentoring, they discover that the time commitment involved doesn't interfere with their own professional responsibilities. A clear example of this is with The Royal Aeronautical Society's ALTA mentoring programme case study, below. In this case the mentoring platform is run by women for women and has helped hundreds of women to mentor and be mentored within the aviation industry.
Not enough expertise to mentor
Another major consideration for women when contemplating mentorship roles was expertise in a specific subject. A vital message for prospective mentors: One should not hesitate to embrace mentoring opportunities due to perceived gaps in subject knowledge.
Women often feel uneasy about mentoring roles due to perceived inadequacies in specific subject areas. However, intriguingly, a Harvard Business Review analysis indicates that upon attaining senior positions, technical knowledge becomes less pivotal compared to fundamental leadership abilities.
In many mentorship dynamics, the primary challenges for mentees aren't technical or subject-specific knowledge. Instead, foundational leadership abilities such as influence, problem-solving, negotiation, and interpersonal relations are areas where budding professionals frequently seek guidance.
Women in Mentoring: A Case Study
The Royal Aeronautical Society's ALTA mentoring programme is a pioneering platform focused solely on attracting, retaining, and developing female talent in the aviation and aerospace industry.
"ALTA's program, recognised for empowering women in aviation, won the 2022 Business Impact Award from the Economic and Social Research Council."
ALTA was developed to provide mentoring opportunities and a support network for professional women in the aviation and aerospace sector and is run for women by women.
The platform offers a range of support tools, including the latest academic research, mentoring guidelines, and bespoke online training modules on diversity and inclusion.

When ALTA approached PLD, they were looking for a mentoring platform better suited to their needs. PLD configured the programme around ALTA's specific requirements, including tailoring the platform's matching algorithm. This level of customisation gives very agile mentoring practices.

The programme has been in operation since January 2019 and has supported hundreds of women in the industry. An impressive 99% of users stated that their relationship on the platform was a good match, highlighting the effectiveness of precise mentor-mentee pairings.

ALTA's industry-wide mentoring scheme has been recognised for empowering women in aviation and aerospace, winning the Economic and Social Research Council Outstanding Business and Enterprise Impact Award for 2022.
What drives women to mentor?
According to SHRM, the predominant reason (80%) women choose to mentor is their desire to uplift and support other women, which can be seen clearly in the above ALTA case study. Moreover, a significant proportion of women (74 percent) mentor because they have personally reaped the rewards of being mentored.
In addition to mentoring being infrequent among women, the research also found that most organisations haven't fully embraced mentoring. This further complicates the process for women seeking mentors.
A mere 56 percent of organisations have an established mentoring program in place, which means that they are missing out on the potential benefits of mentoring that the ALTA case study has shown. Companies stand to gain through having a more diverse workforce and by development of talent within their organisation.
"Working with PLD on [the alta platform] https://www.pldmentoring.com/case-studies/raes-alta is overall a very positive experience. The team is incredibly supportive and provide some amazing guidance. As well as this PLD have consistently gone above and beyond to meet deadlines when making changes and updates to the alta platform. This amount of support has been integral to allowing us to build such a successful mentoring platform."
ALTA / Royal Aeronautical Society
The importance of a structured mentoring program
Organisations often overlook equipping their leaders with essential interpersonal capabilities, such as coaching, networking, and influencing, crucial for effective mentorship. Instead of implementing a structured talent strategy, many organisations are simply leaving mentorship to happen naturally, if at all.
Structured mentoring initiatives make it more straightforward for women to connect with mentors. In organisations that have such formal programs, half of all women have engaged with a formal mentor, compared to just 25% in organisations without these programs. The SHRM study's findings affirm that having well-defined mentoring systems significantly boosts participation in mentoring.
The research aimed to resolve the query, "Do women get involved in mentoring?" We learned that she doesn't, but , as you can see from the above case study, she should.
If you would like to find out more about running a mentoring program just get in touch, or simply take our take our quick 3 minute quiz to see if a mentoring program is right for your company.