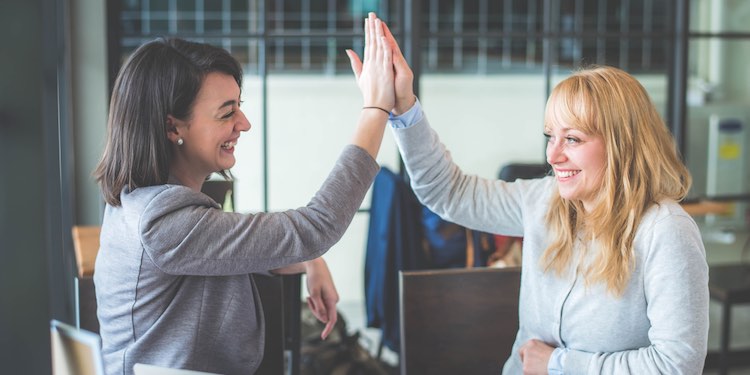 New research from jobs site, Monster.co.uk, shows those starting out in their careers were most likely to want a mentor with

41% of 18-35 year olds saying they would like a mentor

, compared to 27% of 27-50 year olds and 14% of people aged 50+.
While 72% of Brits don't have a mentor to help guide them through their careers over a quarter (28%) say they want a mentor, nearly a fifth (19%) admit they have no idea how to go about finding one. A further 9% say even though they're actively looking for a mentor they haven't been able to find the right person. The survey also revealed that those working in a smaller company were most likely to have a mentor, or want one.
A fifth of HR professionals polled agreed that introducing a workplace mentoring program would help towards achieving gender equality in businesses, it's also widely acknowledged that programs like this work to improve self-confidence amongst participants.
The research found that the UK is trailing behind its EU counterparts when it comes to supporting mentoring – 63% of French employees, 59% of German employees and 56% in the Netherlands have mentors vs 28% in the UK.
"Everyone could benefit from the increased career confidence being mentored offers, and our research shows that young people in particular are crying out for one. Finding a mentor can help you lay out your goals and receive advice from someone who has 'been there, done it'. However, the main hurdle people face is finding a mentor in the first place and having the tools and confidence to approach them."


VP of Marketing Europe at Monster.co.uk, Sinead Bunting
Employees and HR both agree that business need to do more to build mentoring into the fabric of the company. After all studies have shown that this leads to a more confident, empowered and productive workforce and significantly improves retention of employees. It's a win, win.
Mentoring programs can undoubtedly be used to attract talent as part of a recruitment process and a part of an organisation's employee value proposition (EVP) to show that the company values employee development and that it will invest in new recruits' future careers.
Employees need to feel valued and nurtured in order to ensure that they stay engaged and maintain performance. So talent management and mentoring programs can play a vital role in helping employees feel valued and in nurturing them.
Investment in staff through mentoring programs and talent management initiatives can enable staff to feel happy, valued and motivated. Helping employees to develop their skills can lead to increased productivity as well as increased profitability and growth.
Conversely, if organisations don't invest in their staff, don't listen to them, don't train them and don't communicate with them, then they will lose their talent and their knowledge. This approach will hold the organization back, because extra time and money will have to be continually spent on replenishing the 'work pool'. This can cost more than investing in staff mentoring and talent management, as well as reduce organisational ROI.