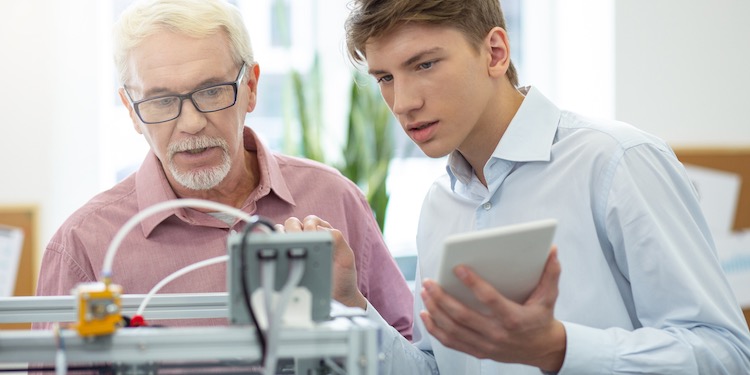 Usually when people think about mentoring, what comes to mind is career advice and counseling. Traditional types of mentoring programs pair younger employees with more experienced colleagues who can help them find the right career paths, make decisions about their careers and development, and tackle conflicts or challenges they experience in the workplace.
This type of career-oriented mentoring plays a vital role in increasing engagement (especially among early-career millennials, who tend to job hop twice as often as new graduates did 20 years ago), minimising turnover and making younger workers feel nurtured and valued. But career support is only one of several reasons to develop a workplace mentoring program.
One powerful alternative application of mentoring is as a knowledge transfer technique. This involves using mentoring as a way to transfer discipline- or job-specific expertise from one employee to another. This type of mentoring is an effective alternative to costly classroom training. Programs can be designed to get new recruits up to speed and to help them adjust to a new organisational culture; or to develop more advanced skills and expertise in order to build up strength for subject matter expert and leadership positions.
Knowledge transfer mentoring
When mentoring focuses on the transfer of discipline knowledge, it becomes a way to give employees the hard skills they need to succeed in their current roles and prepare them to assume more advanced responsibilities over time. This type of mentoring can also be used to ensure that long-tenured employees nearing retirement pass on the experience-based knowledge they have acquired over the course of their careers to the mid-career professionals who ultimately will take over for them.
Often, knowledge transfer mentoring is tied to knowledge management, learning and development, workforce planning or succession management initiatives. Some organisations feel that tacit knowledge, which resides in an expert's head and surfaces in response to a situation or action, can be exchanged most effectively through one-on-one interactions between mentors and mentees who work side by side for a period of time. In those situations, mentorship—sometimes coupled with formal training—becomes a key component of the organisational learning strategy.
Knowledge transfer mentoring is particularly common in STEM (science, technology, engineering and maths) fields where skills shortages compel organisations to accelerate the development of less experienced people to fill critical positions.
So whilst knowledge transfer mentoring is clearly valuable, a new Opinium Research study commissioned by AAT (Association of Accounting Technicians) found that while workers across all industries recognised that having a mentor can help them to upskill and set goals, only 13 per cent currently has one.
The survey also found that just 22 per cent of the organisations they surveyed currently run a mentoring program – and only five per cent of employees working in hotel, leisure and entertainment said they currently receive mentoring.
Workers recognise benefits of mentoring
84 per cent of employees who have received mentoring recognised it as a valuable experience – with 72 per cent of those who have been a mentor agreeing it was worthwhile. Over half of workers (54%) said that having a mentor gave them new skills, with a further 50 per cent saying that it gave them more confidence. Having someone to talk with, being able to set goals, and resolving issues were other reasons cited as to why mentors are useful additions to the workplace.
28% of employees who work in organisations that don't currently operate a formal mentoring program would like them to. While over half (51%) of all employees believe it is companies who should lead in the area of setting up and maintaining mentoring relationships, with just 17 per cent believing the onus should rely on the individual.
It is the financial services industry which has the most employees who would like to become a mentor themselves (46%). Yet only 31 per cent of organisations in financial services currently run a formal mentoring program, although this drops to just 13% of those working in hotels and leisure.
If you think your organisation could benefit from a Knowledge Transfer mentoring program get in touch to find out more.