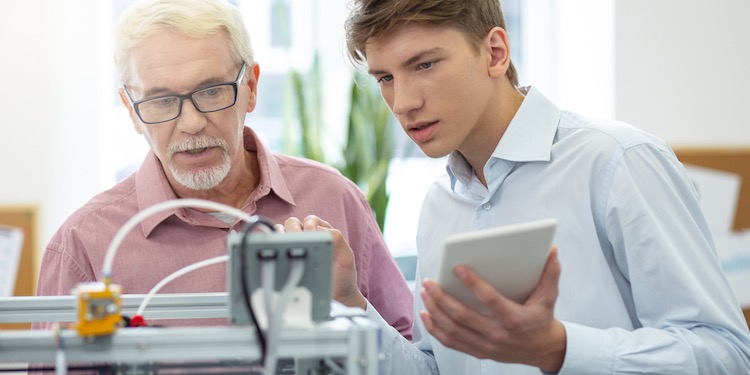 Last updated
When most individuals consider mentoring, they often associate it with career guidance and advice. Traditional mentoring setups commonly match younger staff members with their more seasoned counterparts. These experienced colleagues provide direction in choosing the right career paths, assist in making career and developmental decisions, and help address any workplace conflicts or hurdles.
Career-focused mentoring is crucial in boosting engagement, particularly among younger millennials who are more prone to switch jobs than graduates two decades ago. It also aids in reducing staff turnover and ensures that younger employees feel appreciated and cared for. However, offering career guidance is just one of many motivations to establish a mentoring initiative in the workplace.
Another impactful use of mentoring is for knowledge sharing. It serves as a method to pass on specific job-related or discipline-focused expertise between employees. Such mentoring can be a cost-effective substitute for traditional classroom training. These programs can be tailored to quickly on-board new hires, helping them adapt to an unfamiliar company culture, or to cultivate advanced skills, preparing them for roles as subject matter experts and leaders.
Mentoring for Knowledge Sharing
When the emphasis of mentoring shifts to imparting discipline-specific knowledge, it equips employees with the essential skills required for their present roles and readies them for higher responsibilities in the future. Such mentoring also acts as a bridge, ensuring that seasoned employees approaching retirement focus on mentoring high potential employees for succession, which relays their accumulated experience and wisdom to mid-career professionals poised to succeed them.
Frequently, mentoring for knowledge transfer is linked with initiatives like knowledge management, professional growth, workforce strategizing, or succession planning. Many organizations believe that implicit knowledge, the kind that's ingrained in an expert and emerges in specific situations, is best shared through direct interactions between mentors and mentees working closely for a duration. In such contexts, mentorship, often paired with structured training, becomes a pivotal element of the organization's learning approach.
Mentoring for knowledge sharing is especially prevalent in STEM (science, technology, engineering, and maths) sectors. Due to skill gaps in these areas, organizations are often driven to fast-track the growth of their less seasoned individuals to occupy vital roles.
While the value of mentoring for knowledge transfer is evident, a study by Opinium Research, sponsored by AAT (Association of Accounting Technicians), revealed an interesting contrast. Workers from various sectors acknowledge the benefits of having a mentor for skill enhancement and goal-setting, yet only 13% of them currently have a mentor.
The study further highlighted that a mere 22% of the organizations surveyed have an active mentoring program in place. Notably, only a small fraction, 5%, of employees in the hotel, leisure, and entertainment sectors reported receiving mentorship.
The Value of Mentorship Recognised by Employees
A significant 84% of employees who underwent mentoring found it to be a rewarding experience. Similarly, 72% of those who took on the role of a mentor felt it was a meaningful endeavour. More than half of the workers (54%) credited mentorship for equipping them with new skills, and another 50% felt it boosted their confidence. The benefits of having a mentor extended to having a sounding board for discussions, goal-setting assistance, and problem-solving, underscoring the importance of mentors in the professional environment.
In organizations without a structured mentoring program, 28% of employees express a desire for one. A notable 51% of all employees feel that the responsibility of initiating and sustaining mentoring relationships should fall on the companies. In contrast, a mere 17% think that this duty should rest with the individual.
The financial services sector stands out with 46% of its employees expressing an interest in becoming mentors. However, only 31% of companies within this industry have an established mentoring program. This figure is even lower in the hotels and leisure sector, where just 13% have such a program in place.
Case Study: Ascential plc's Success with Knowledge Transfer Mentoring
Background:
Ascential plc, listed on the London Stock Exchange, delivers specialist information, analytics, and ecommerce optimization to leading consumer brands globally. With two main divisions, Digital Commerce and Intelligence & Events, they employ over 3,500 professionals across five continents.
Client Feedback:
"Our experience working with PLD has been seamless. PLD are extremely responsive and adept at customizing the platform to fit our needs."
Program's Aim:
Ascential aimed to showcase their internal talent through a mentoring platform, allowing employees to either offer their expertise as mentors or seek mentors for themselves. They viewed mentoring as a pivotal strategy to break down organizational silos, nurture internal talent, foster leadership careers, and support overall career development.
Mentee Feedback:
"Working with my mentor changed my life... This has helped me see my career from different angles, build up my confidence, and challenge myself in ways I have never done before."
Solution:
PLD collaborated closely with Ascential to tailor a mentoring software solution that met their specific needs. The platform was branded to align with Ascential's identity, and any additional requirements identified during internal testing were promptly integrated. A significant success criterion was supporting equality and diversity across Ascential's global workforce, with several members of their EDI initiative participating in the program's design.
Mentor Feedback:
"Great experience and I derived great passion from the mentorship scheme."
Measuring Success in Knowledge Transfer Mentoring Programs
To gauge the effectiveness of knowledge transfer mentoring programs, organizations need a combination of quantitative and qualitative metrics. These metrics provide insights into the program's impact, areas of improvement, and overall success.
Metrics and KPIs:
Engagement Levels: Measure the number of active participants, frequency of mentoring sessions, and usage of mentoring tools or platforms. For example. With Ascential plc, there was a positive uptake with over 450 mentees/mentors registering since the program's launch.

Feedback Surveys: Collect feedback from both mentors and mentees to understand their experiences, challenges, and benefits. Ascential's feedback surveys showed positive results for both groups, indicating the program's effectiveness.

Skill Development: Track the specific skills or knowledge areas that mentees report improvement in after their mentoring sessions.

Retention Rates: Monitor the retention rates of participants in the program. A higher retention rate can indicate that employees value the mentoring program and its contributions to their professional growth.

Diversity and Inclusion Metrics: If one of the program's goals is to support diversity and inclusion, track the diversity of participants and ensure that various groups are represented and benefiting. Ascential, for instance, emphasized supporting equality and diversity across their global workforce.
Qualitative Measures:
Success Stories: Document and share success stories where mentoring has led to significant career advancements, skill development, or problem-solving. These stories can be powerful testimonials to the program's impact.

Testimonials: As seen in the Ascential case study, testimonials from participants can offer insights into the personal and professional benefits they derived from the program. For instance, one mentee mentioned how the mentoring changed their life and helped them see their career from different angles.

Mentor Feedback: Gather insights from mentors about their experiences, the challenges they faced, and the rewards they gained from mentoring others.
Measuring the success of a knowledge transfer mentoring program requires a holistic approach, combining hard metrics with qualitative insights. By regularly evaluating the program, organizations can ensure its continued effectiveness and make necessary adjustments for improvement.
If you think your organisation could benefit from Knowledge Transfer mentoring, take our quick 3 minute quiz to find out if a mentoring program is right for you!
Back to the blog